Journal Entry – 068 | Day 2 at the Hospital
Coney was much improved this morning. Unlike her first delivery with Davin, she is not bedridden on the second day of her stay at the hospital. She could actually get up and walk around.
Caleb was a little better too. He could now open his eyes more. His blood sugar was fluctuating, so we still had to put in the effort to feed him as much as we could. Since Coney was still not back to 100%, I was the one changing Baby Caleb's diapers. It was not as hard as I thought it would be. In fact, I think it is easier to change an infant's diapers, than it is to change one on a toddler.
---
Just remembered a random thought I had while in the OR for Coney's c-section. The anesthesiologist was chatting with Coney's OB. It felt like I was in an episode of Grey's Anatomy. 😄
---
Back to Baby Caleb. He had to drink more milk, otherwise he would be transferred to the NICU due to low blood sugar. One problem we had with feeding him, was that he would always fall asleep before finishing the bottle. I also found that if I feed him while carrying him, he would also eventually fall asleep midway. One of the student nurses told us to "un-swaddle" him, so that he would wake up and we could continue feeding him. What we've found that works, is to lay Caleb on his bassinet, raise his head a little and then bottle feed him that way.
---
Just before lunchtime, a photographer dropped by and we were able to get Baby Caleb's picture taken. This was something that also didn't happen with Davin because he was taken to the NICU on the same day he was born. Anyway, here's a few of the cute photos that we got of Baby Caleb.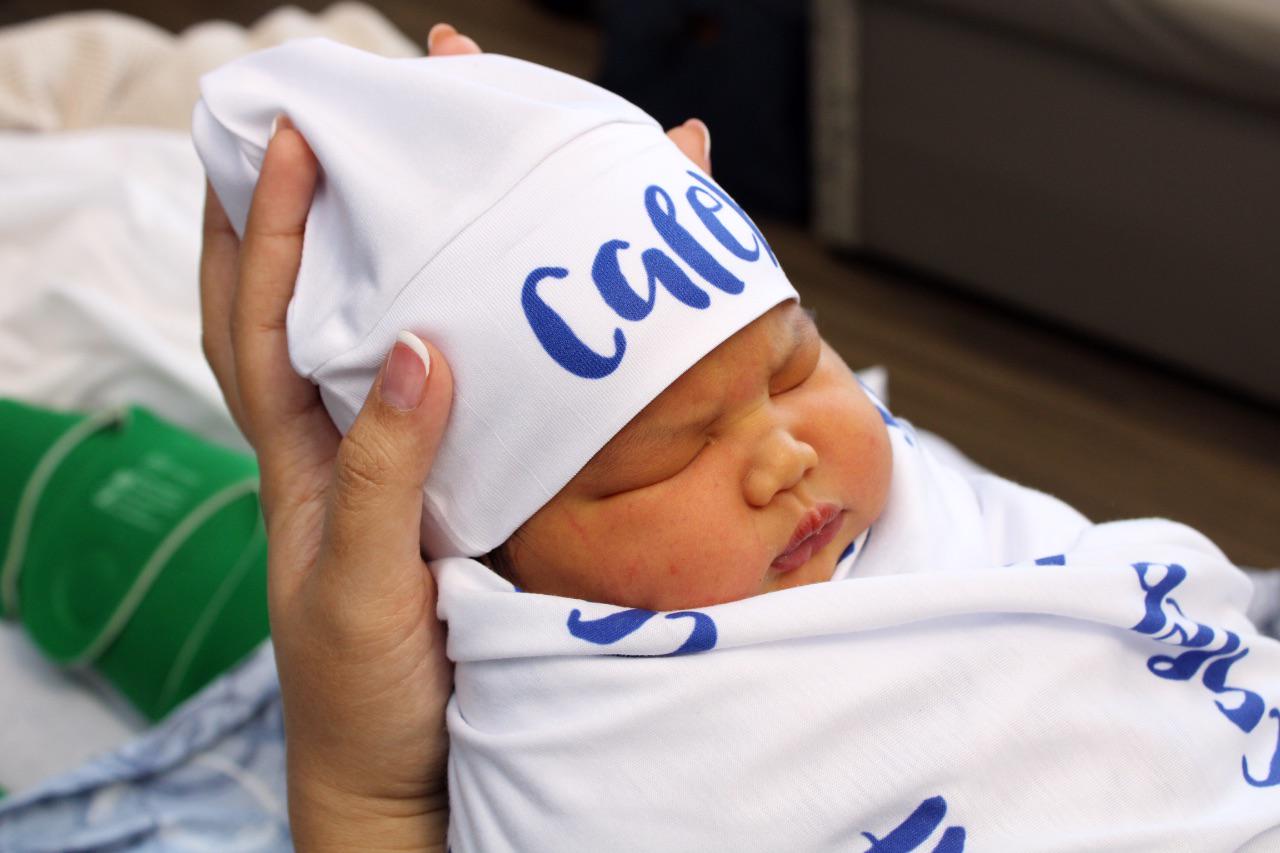 ---
Our chiropractor, who is also a family friend, came to visit Coney and Baby Caleb. Coney managed to get her neck adjusted too.
---
We managed to get Baby Caleb to drink enough to stabilize his blood sugar, but he still had to be taken to the NICU. It was because his jaundice level was really high. The nurse said his jaundice level was so high, that the machine was flashing red when it returned back the results. The nurse took Baby Caleb to the NICU at around 2-3 PM. 😥
---
I miss Caleb, we miss Caleb. Yeah we could barely rest with him in the room, but the room felt so empty without him.
I also miss Davin. I hope he is doing all right at the baby sitter.
---
Prior to our dinner, we played cards to pass the time. We first played the game War. It is a two-player card game mostly for kids. It is exactly that, a game for kids. There's no strategy or skill involved in the game, only luck. It got boring really quick.
We then played the game 41. That one was more engaging to play because your choices actually determine your chances of winning.
---
We had our celebratory meals tonight. I have to admit to feeling a little down because Baby Caleb was not in the room with us. Nor was Davin. Anyway, Coney had the prime rib and it was pretty good. I got grilled salmon and it was nothing special.
---
After dinner, we went to visit Baby Caleb at the NICU. The NICU in the hospital has been renovated since Davin was born. It is a lot bigger and they are a lot stricter with the rules for visitors. They had us wash our hands thoroughly. Our mobile phones had to be sanitized and secured in a special plastic wrapper. We neglected to take pictures of Caleb at the NICU because of that.
We found Baby Caleb under a set of 5 lights. He had a mask to cover his eyes and an IV on his right hand. Thankfully, he didn't need an NG tube, which is a tube that they stick into a baby's nose. Davin had one of those and it was a very concerning thing to see on a baby, let alone your own baby. Caleb doesn't need it.
His jaundice level is still pretty high. He was at 24 prior to the start of his photo-therapy. It dropped down to 21 when we were visiting, which is apparently still very high. But at the same time, it is good that it dropped down. Hopefully it continues dropping overnight.
While writing down this journal entry, I also wrote down this short prayer. — Please Lord, watch over Baby Caleb tonight and help him get better soon.
I think Baby Caleb recognized our voices, because when we started talking, he became a little fussy. Almost like saying, "Hey Mom and Dad, you have to get me out of here." I told him he needs to get better first before we can take him home.
---
This post is Day 42 of my #100DaysToOffload challenge. Visit https://100daystooffload.com to get more info, or to get involved.